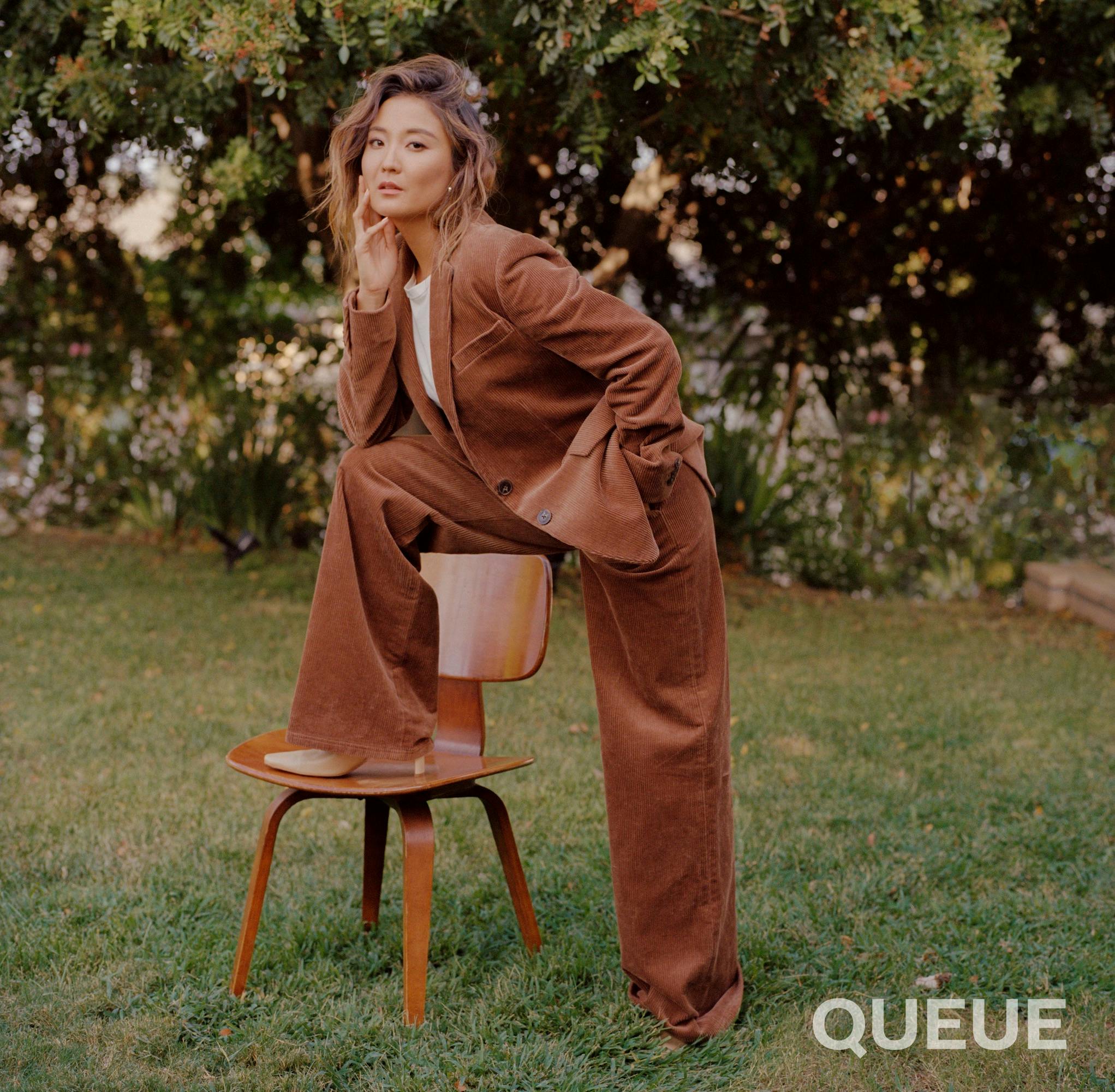 Ashley Park is the Moment
As she steps into the second season of Emily in Paris and a new lead role, the actor reflects on how she's persevered in an industry "built for white people."
Emily in Paris star Ashley Park has always dreamed of acting, even if her career didn't take the path she expected as a five-year-old. "I got all the Barney V.H.S. tapes and I was like, There is not an Asian girl. I have to be on Barney," the actor recalls of her childhood ambition. Life had other plans: "The best thing my parents did was to not take me to a Disney audition when I was six and instead take me to Ann Arbor, Michigan, where I could grow up and learn how to be a person," the actor laughs.
The star is pretty sure that her parents, both born in Korea and raised in America from a young age, had originally only intended to move to Ann Arbor temporarily, but fell in love with the idea of Ashley and her younger sister growing up in a university town. By luck or kismet, Park's childhood was suffused with the musical theater culture that came with living near the University of Michigan, which boasted a top tier musical theater program.
For a while, singing, dancing, music, and theater were just fun extracurricular activities for Park, but things changed when, during her sophomore year of high school, Park was diagnosed with cancer right before Christmas. She was 15 years old. "Everyone's life went on and mine kind of paused," describes Park. After being hospitalized for eight months and with a still weak immune system, Park auditioned for her high school musical, landing the part of Millie in Thoroughly Modern Millie. "I was still bald, and I wore wigs made out of my own hair for that. It was the only time I wasn't the sick girl or the one who just had cancer or the one everyone was worried about. When I was on stage, I got to just be that character," she says. The actor knew what she wanted to do with her life.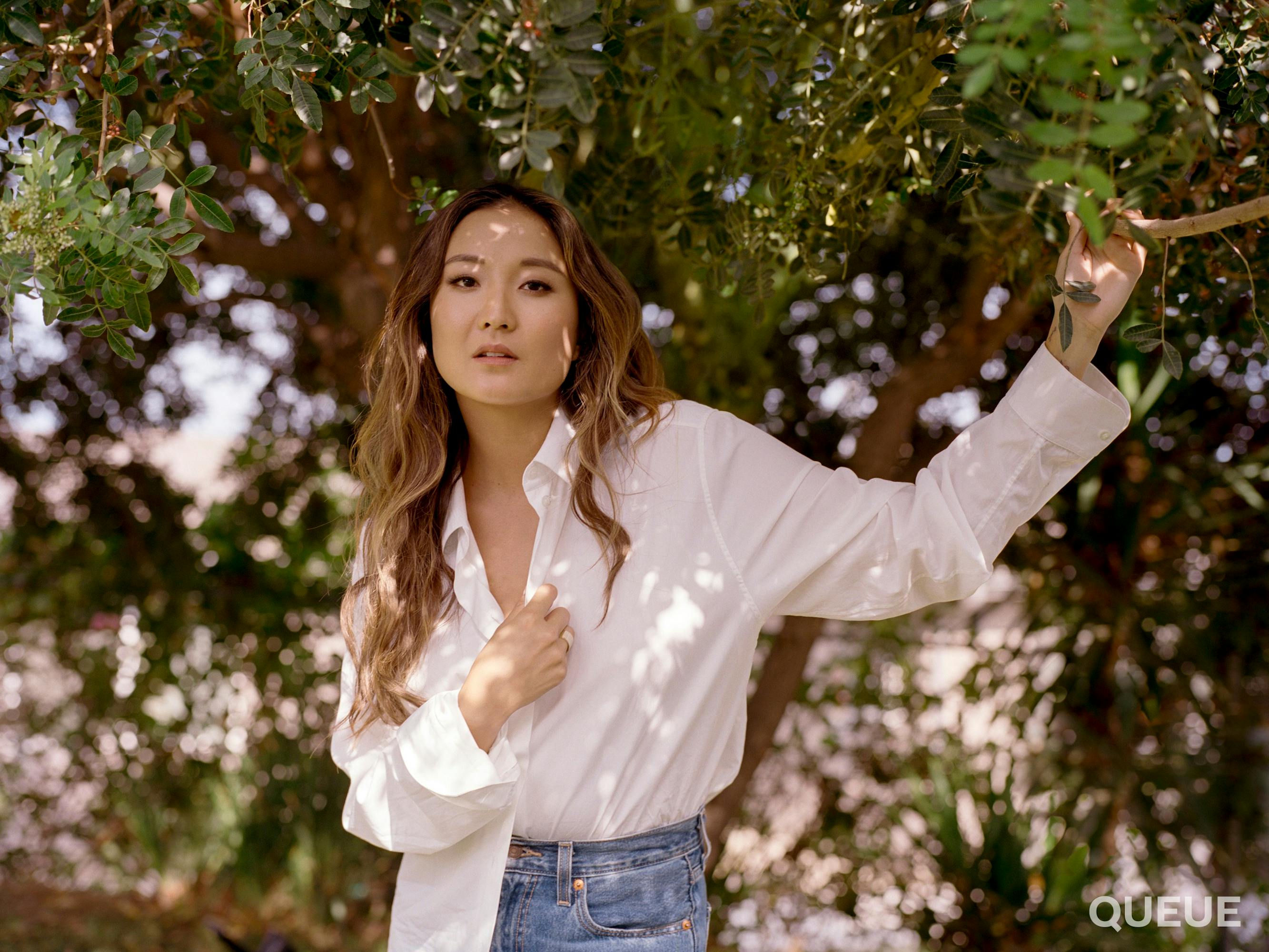 After graduating from U.M. with a B.F.A. in musical theater, Park's classmates had dreams of winning Tony Awards and gaining instant success. Park, however, entered the entertainment industry prepared to work. After making her debut as an understudy in Mamma Mia! in 2014, Park played Tuptim in The King and I (and was nominated for a Grammy for her cast recording), played in Sunday in the Park with George, and notably took on the role of Gretchen Weiner in the musical Mean Girls, a role that earned Park a Tony Award nomination and the title of Broadway star with a capital S. "My parents have always taught me to do the best that you can with the hand that you're dealt, and bring the most amount of goodness to whatever you're doing and to the people around you — and somehow it'll build into something else," she says.
Park's hard work and resilience in the theater have prepared her for a successful television career. Emily in Paris — on which Park plays Mindy Chen, aspiring singer and best friend to Lily Collins's Emily Cooper — reached 58 million households in the month after the first season debuted. Season 2 is bigger and better than its predecessor, with new locations, new characters, and of course, new outfits. But, best of all, more time with Emily and Mindy. "I think you get to see shades and colors of both characters, and their relationships, that is nuanced. They both support each other's story, and they're very honest with each other," she says.
What I love about playing Mindy, what's very moving for me, is that you can tell Mindy is the lead of her own story and her own life. She's choosing this friendship with Emily.
Park and Collins, who are now close friends in real life — "She's one of my best friends," says Park — both arrived in Paris to film Season 2 when the city was still under COVID curfew. They quarantined upon arrival, travel was limited, and restaurants were closed. The City of Light just wasn't the same. "The first episode opens right after we left off in Season 1, but [in real life] we've all been through this giant world thing. And trauma. We're now coming back into the skins of these characters who haven't experienced that, so how do you marry those two?" considers Park. 
The actor says her favorite days filming Emily in Paris were the ones where she got to be on set with Collins, whom she calls both an ally and a supporter. Fans of Mindy will be thrilled to hear that the songstress has more screen time, musical numbers, and most importantly, more of her own journey in the new season. "What I love about playing Mindy, what's very moving for me, is that you can tell Mindy is the lead of her own story and her own life," says Park. "She's choosing this friendship with Emily. Mindy is in just as fabulous outfits and has just as many character traits." 
Park brought her perspective and culture as a Korean American to the backstory of Mindy. After casting the actor, Mindy evolved to reflect Park's heritage, and a line was added where the character mentions her mother is Korean, making her half-Korean, half-Chinese. "I was just like, I can't perpetuate this idea that Asians are a monolith." says Park.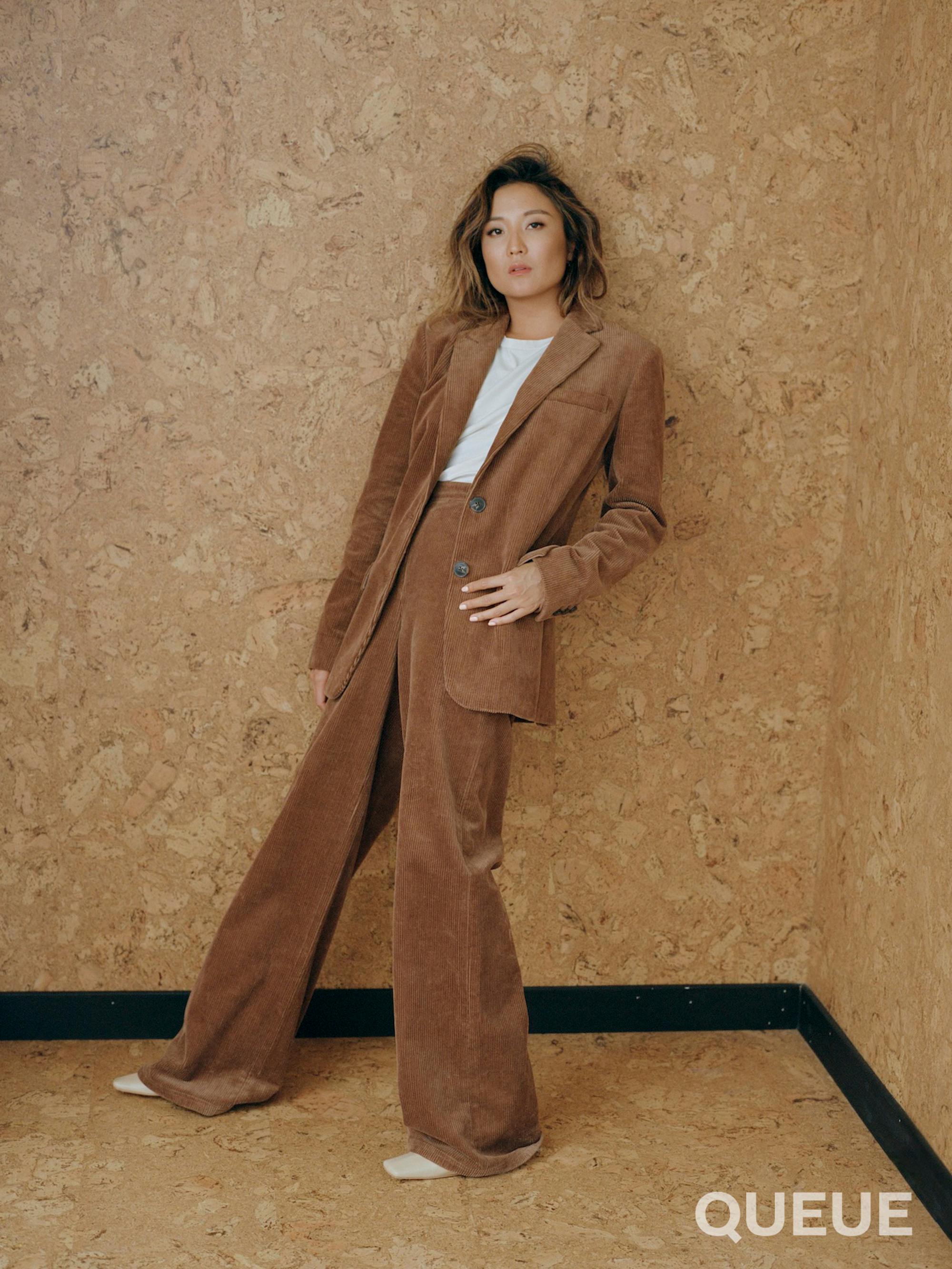 Lately the actor has been grappling with how growing up with a lack of Asian representation in Hollywood and theater has affected her, pointing out that she can distinctly remember the few times she saw an Asian face like hers on screen and on stage growing up. "I [attribute] a lot of my humor, a lot of my understanding of how film and TV and theater work, to observing traits that white women have been able to express and experience on the screen, onstage," she says. "I learned things from those women, but being Asian or a person of color was not a part of their narrative. So I'm learning how to fuse what I've learned with my own narrative. I can't just play a part that was written for and thought about as a white woman lead. There are different textures to it."
After a career built as a supporting actress, it feels as if the moment has finally risen to meet Park's talents. Beyond growing in her role as Emily in Paris's Mindy, the actor is poised to star in a feature-length comedy in which she plays the lead role, and she shares her excitement that the production team includes Asian women as the director, supporting leads, and writers. "We're just so used to not this," Park explains, "We're just so used to making do and not being able to really fit in ourselves or celebrate it." Next year, we'll see Park take on a new Lionsgate / Point Grey feature as well as Mr. Malcolm's List, an England-set romantic comedy. Reflecting back on her childhood ambitions, Park remarks, "I think if she saw me now, my five-year-old self would feel very empowered and have much bigger dreams than Barney."
Ashley Park knows how hard she's worked for her newfound recognition. "I think the worst position to be in is to have imposter syndrome," she says. "But I don't feel that way here. I think the best feeling is when you know you've earned it, you know you've put in the time, and the right thing has found you."
Watch Ashley Park discuss her journey to stardom and experiences as an Asian American in theater on the latest season of Spill the Boba Tea with Phil Wang of Bopomofo Cafe. For more stories and features that celebrate the Asian diaspora on Netflix check out @NetflixGolden.