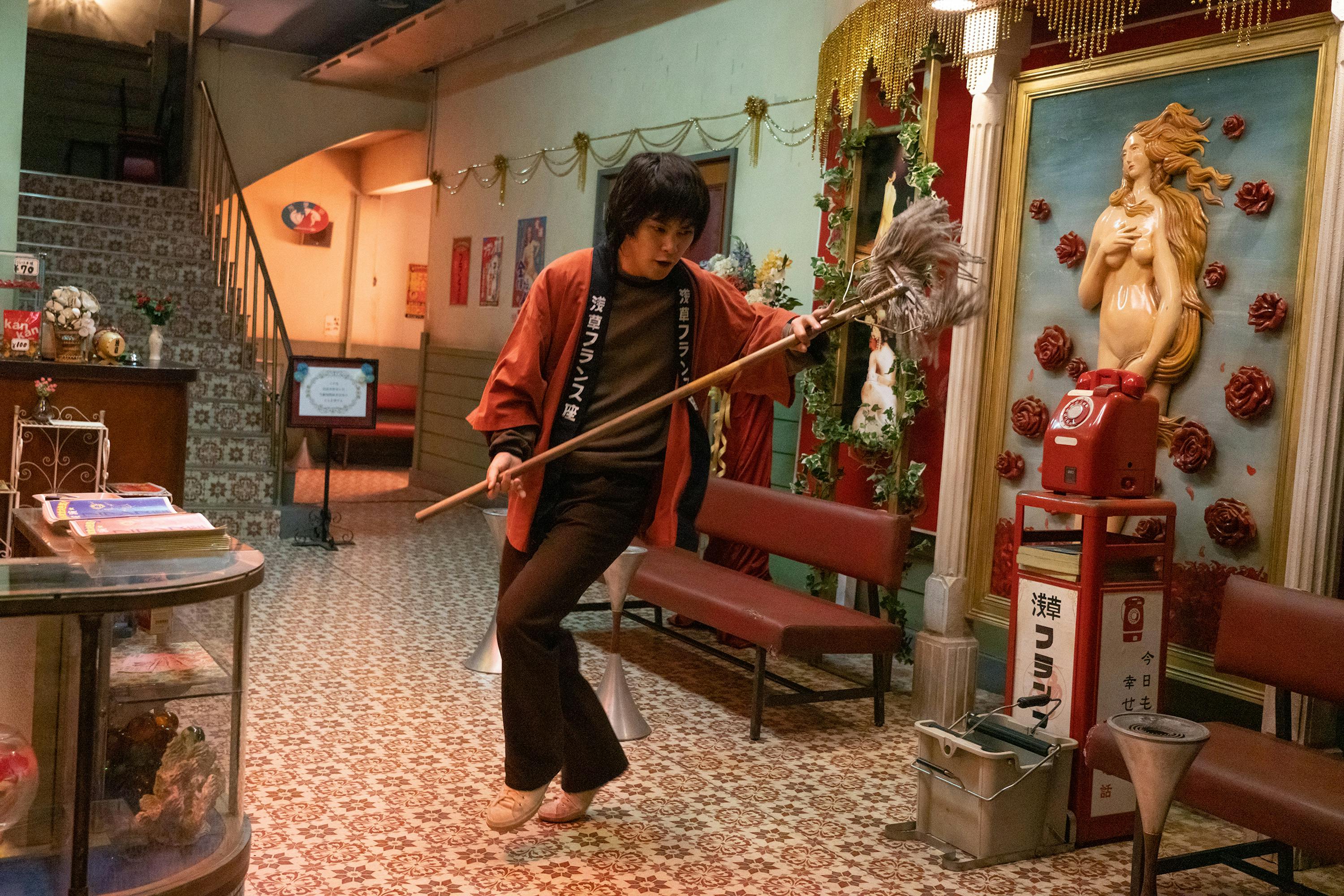 Every legend has a mentor who helped them reach great heights. Director and screenwriter Gekidan Hitori captures such a story in Asakusa Kid. Set in the 1970s, in the Asakusa neighborhood of Tokyo, the film depicts the rise-to-fame of one of Japan's entertainment legends, Takeshi Kitano, otherwise known as Beat Takeshi, known worldwide for his comedy career; memorable acting roles, like his portrayal of Kitano in 2000's Battle Royale; television hosting (including global cult hit Takeshi's Castle); and as a Golden Lion-winning film director, an award he won in 1997 for Hana-bi. 
Hitori's film, based on Beat Takeshi's book of the same name, focuses on the early years of his comedy career. For Hitori, it was a project years in the making: "I began writing the script in around 2014. I happened to be working with Takeshi at the time, so I asked him, 'Mr. Takeshi, aren't you going to make a movie of Asakusa Kid?' He replied, 'I ain't doing it.' I knew that if someone else filmed the story, I would regret it for the rest of my life." 
Played by Yuya Yagira — the youngest person ever to win Best Actor at the Cannes Film Festival — Beat Takeshi's transitions from elevator boy to apprentice of emcee and comedian Senzaburo Fukami (Yo Oizumi), entertaining the crowd between sets at the Asakusa France-za, a so-called "sanctuary of strip and comedy shows." Yagira and Oizumi sat down to share what it was like portraying the story of a living hero, his mentor, and the road to success.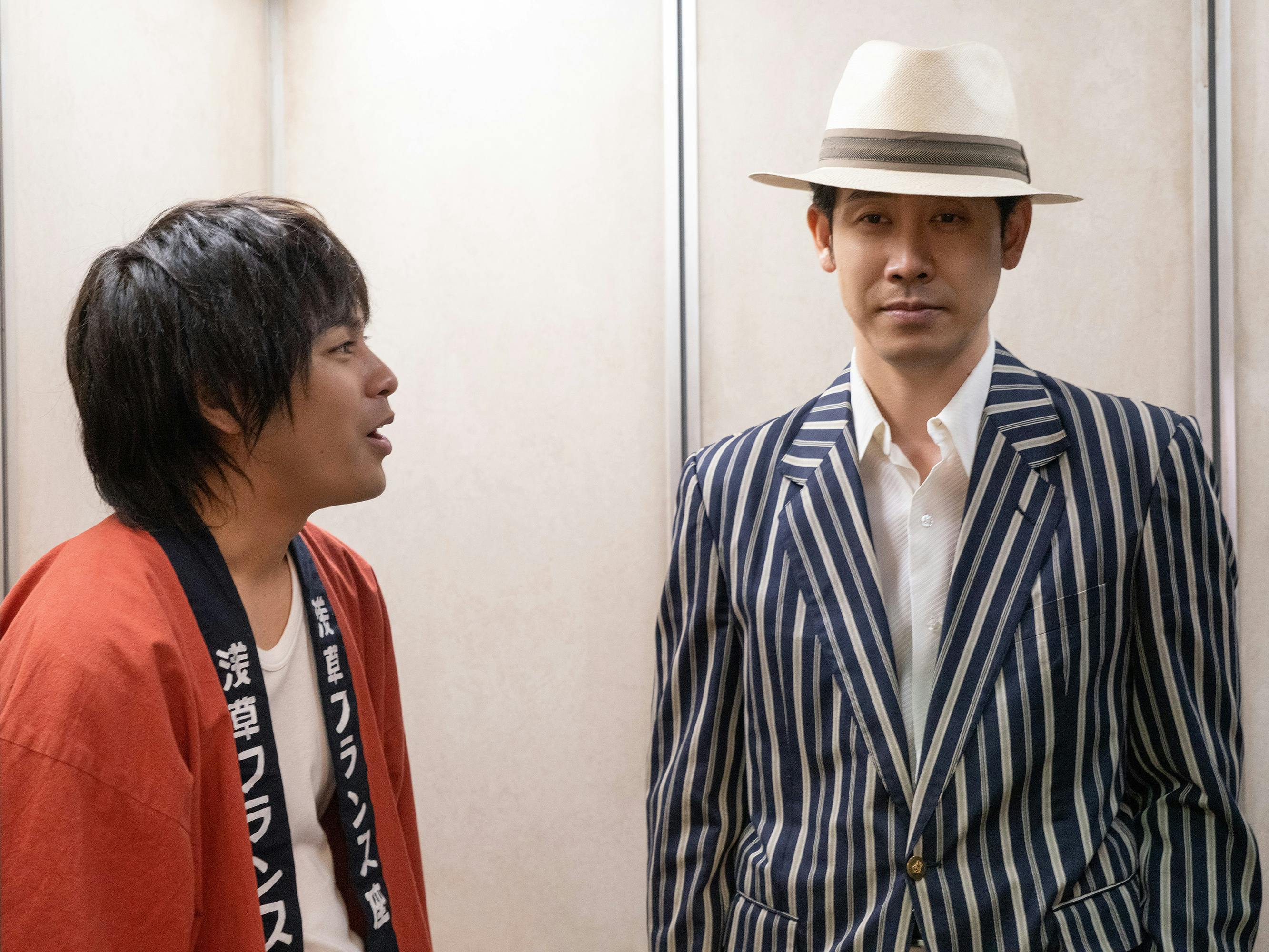 Queue: What was it like to work together on set?
Yuya Yagira: I had been in a film with Oizumi once when I was around 16 and a few times after that as well. He has a way of talking, an aura, and a rhythm that draws people in. I can't do that, so I really look up to him. It may actually be close to the relationship between Takeshi and Fukami. I learned a lot being on set together. There is a scene at the end where Takeshi and Fukami meet at a bar and make the other customers laugh. Oizumi told me how to speak with a tempo, tone, and rhythm that would keep the customers engaged. It's thanks to his help that I was able to give a good performance in that scene. He's very reassuring.
Yo Oizumi: Yagira is one of my favorite actors, and it's great to see his work. I could simply say that he's "good," but that would be rude since I think he's a really great actor. When I heard that the role of Takeshi had gone to him, I just knew this would become an incredible piece of work. While filming scenes together, he didn't rely on any superficial techniques, and he gives a performance that will capture your heart. I was really impressed by him.
What were the hardest parts to film? 
Oizumi: Oh, for me, it was definitely the tap-dancing scenes! The longest scene where I had to tap dance was about 30 seconds, and it was filmed as a long, continuous shot which is how Hitori likes to shoot things. I felt pretty tense doing that, because even the slightest mistake on my part meant having to redo the whole scene from scratch. I was already nervous about being onstage with a spotlight shining on me to create this magical scene, without the additional pressure of not screwing up the take. I definitely think those tap-dancing scenes made me sweat the most.
Yagira: That's right. Basically, scenes were shot from beginning to end as one long take. In those scenes, we couldn't move on until I naturally expressed the character of Takeshi. There were many scenes with lots of dialogue, so I really had to work hard to give a performance the director was satisfied with — saying "You fool" like the real Takeshi the whole time, of course. I said that all the time. I also made this gesture (scrunching shoulders) a lot. I was worried about it becoming a bad habit because I would do it during filming, and even at other shoots I was told not to do Takeshi, but it was impossible while I was filming this movie.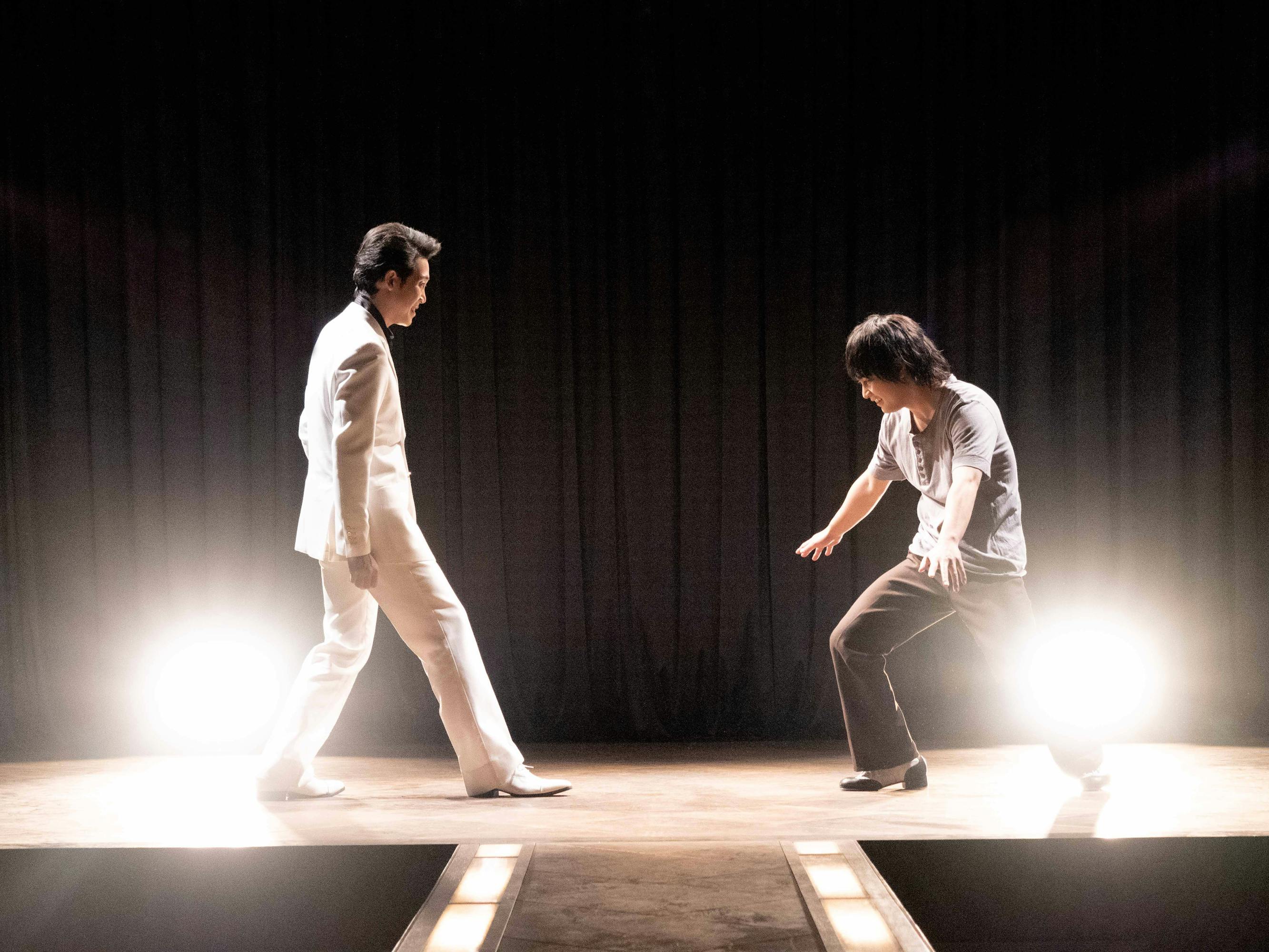 Who is Beat Takeshi to you? 
Yagira: I have a strong impression of him, and not just from variety TV shows. When I was in my teens, I was invited to an awards show where I could have possibly won lots of awards for Best New Actor, but I had to refuse because I was filming on location overseas at the time. Around that time, Takeshi held his film festival and said that he wasn't sure if I was stupid or clever. I didn't hear it from him directly, but he made a comment on TV that my future would be tough if I won all those awards at such a young age. I was 14 and really wanted to do my best, so when he said it would be tough on me, I was shocked. That became this burning motivation inside me to appear in one of his films. It might be a bit of a curveball that I'm finally playing the role of Takeshi when I am almost 30. Takeshi was a legend of my teenage years who pushed me to do my best. In my 20s, I started thinking that he was really cool, and he gradually became something of a spiritual guidepost to me. 
Oizumi: Beat Takeshi is an easy-to-understand hero for our generation. I love comedy and only ever thought about making people laugh. I think I love comedy from the bottom of my heart because I've been watching it since I was in elementary school. We were the generation that watched The Manzai in real-time and we were crazy for Two Beat. We're a generation that's been watching Takeshi's success story since we were kids. He's my hero. 
When I first got to speak with him, it was on a program that was an education-themed variety show. When I heard that the main host was Takeshi, I took the job because I wanted to meet him or at least catch a glimpse of him. I was impressed: Wow, Takeshi is here! I remember it even now.