There are more than a few looks to covet in The Harder They Fall thanks to costume designer Antoinette Messam.
No one was more suited to dress the cast of The Harder They Fall, Netflix's new Western, starring Jonathan Majors, Idris Elba, and Regina King, than veteran costume designer Antoinette Messam. The Jamaican-born Toronto native, best known for costuming films like SuperFly, Orphan, and Creed, has almost three decades of experience. The scoring notes included in the script by director Jeymes Samuel, who also co-wrote the film, were unusual for a Western, but reminded Messam of lovers rock jams by Beres Hammond, Gregory Isaacs, and Bob Marley that she grew up on. And Messam was thrilled by the challenge of fashioning a platonic ideal of a Black cowboy, a gunslinger that harkened back to the Westerns she bonded over with her father as a little girl, while offering a unique polish and swagger of her own.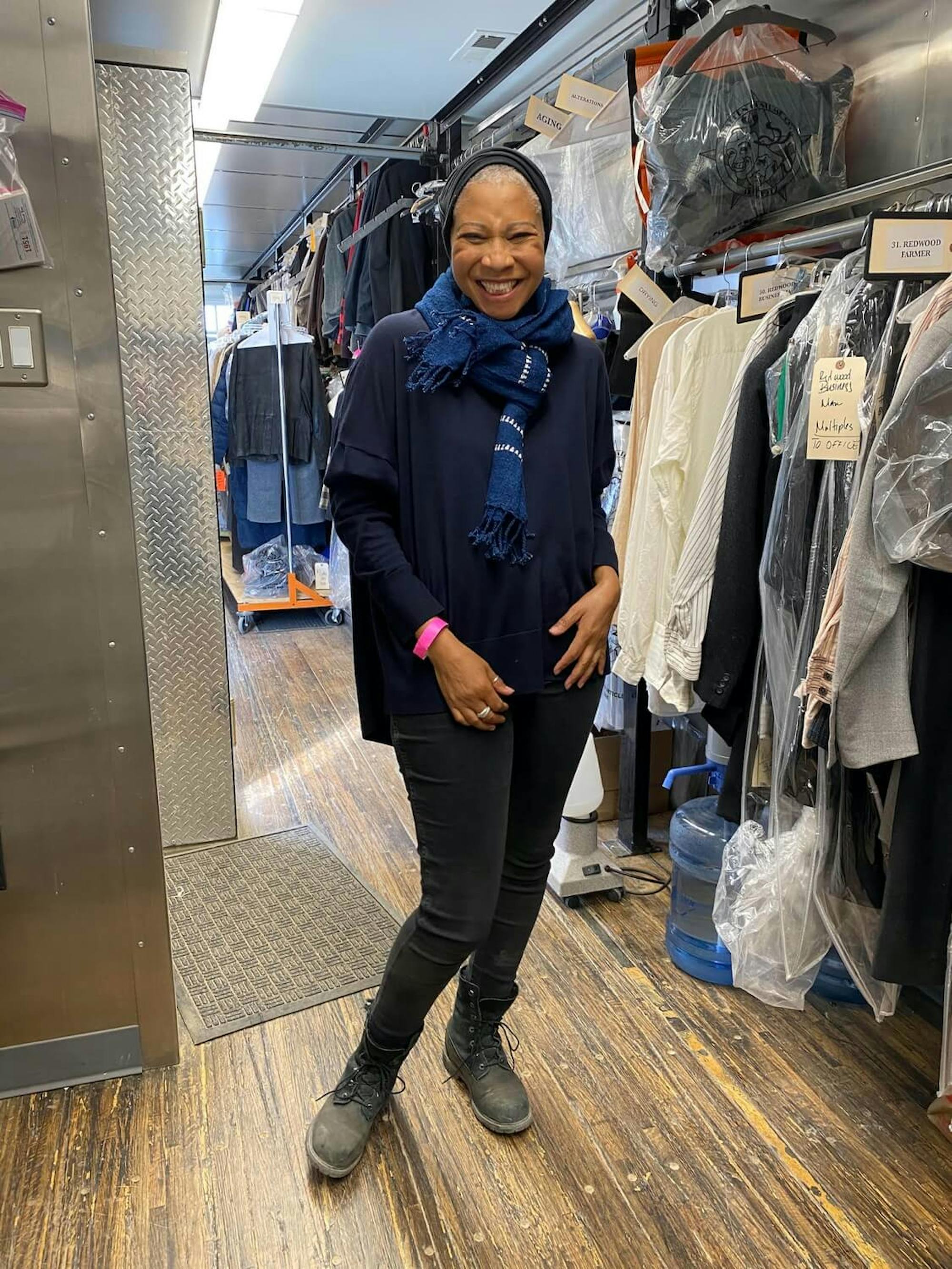 She was a shoo-in for the job, but it was an act of kismet that may actually have sealed her fate. When Messam was interviewing for the role in 2019, she provided Samuel with mountains of visual references. While much of what she shared overlapped with Samuel's tastes, like vibrant illustrations by artist Kadir Nelson, one specific image in her collection stopped Samuel cold. It was a black and white Victorian-era portrait of a regal brown-skinned couple: a man in a smart three-piece suit with an exposed watch chain standing beside a seated woman in an intricate and voluminous gown. They were, unbeknownst to Messam, Samuel's ancestors. "When he saw it, he almost lost it — Antoniette, that is my great-great-grandfather!" Messam recalls. "Goosebumps, literally." Those goosebumps eventually led to her joining the team for The Harder They Fall, which will land in theaters and on Netflix on October 22nd.
Through her costume design Messam has redefined the image of the Black cowboy for a new generation and breathed new life into a familiar genre. The sumptuous ponchos, expertly cut riding coats, and perfectly aged denim that Messam employs do as much to establish the journey of Nat Love and his band of outsiders as the film's panoramic tracking shots and pulse-quickening action sequences.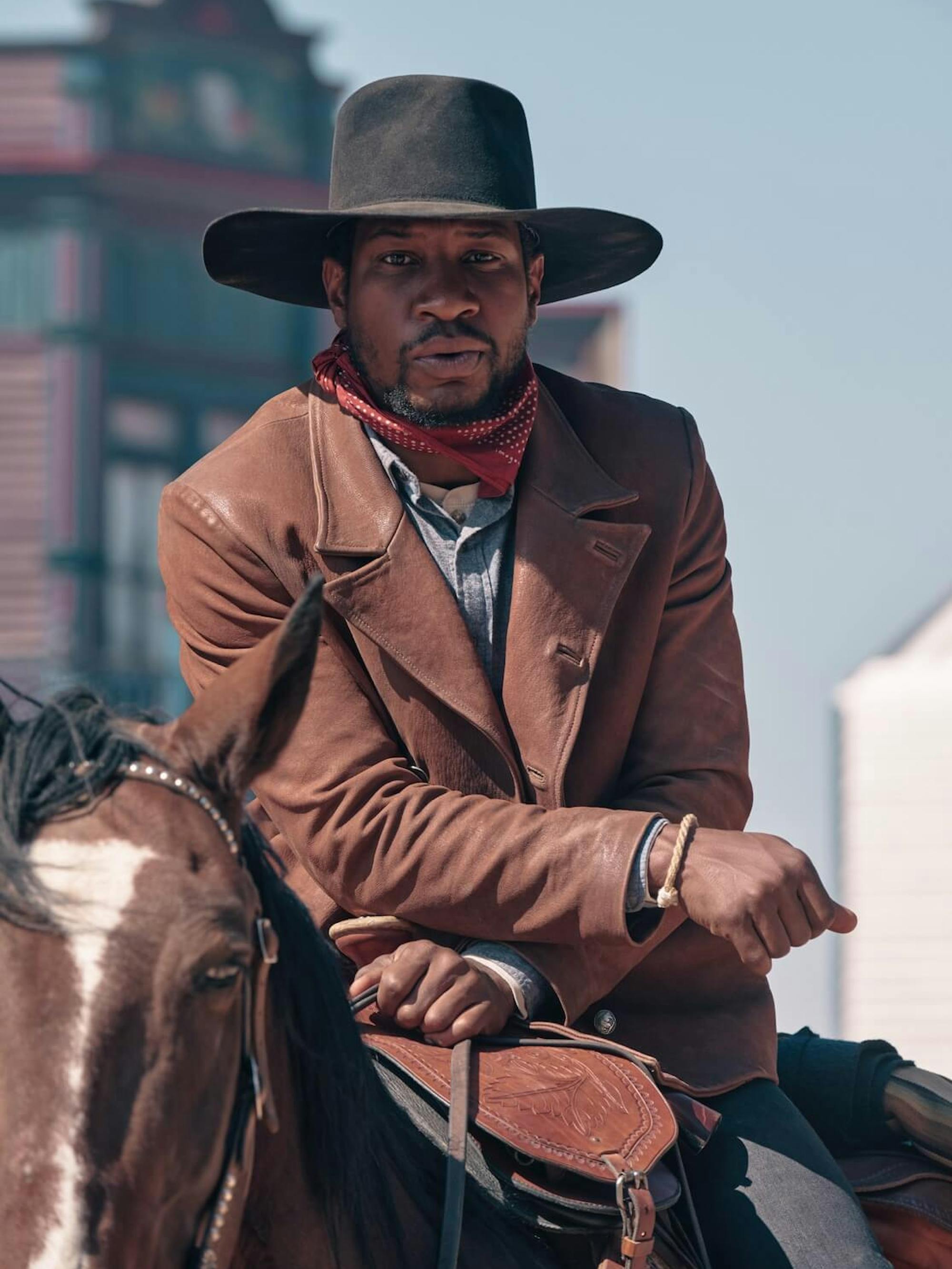 Pulling that off took months of work and collaboration. Samuel wanted to achieve the feel of a classic Western, but with some heavily stylized twists, and a strong use of color. The clothes also needed to be functional — the actors had to run, shoot, and ride horseback in them — and appear lived-in, as if each character had worn the same leather vest and raw denim button down for years. "The clothes had to land and look right. They had to look like they belonged on people," Messam said.
The Harder They Fall was also set to begin filming in March 2020, when the entire world paused, due to the pandemic. Messam and her team resumed pre-production in New Mexico in August 2020, but with extensive COVID-19 protocols that drastically altered their usual processes and shrunken turnaround times. "I've had some challenging movies in my career, but this one — to try to make it look 'hot, swagger, Victorian, with color in the right places' during COVID — I'd have to say is up there with challenges," Messam laughed.
Still, Messam made it all work. Zoom fittings became de rigeur. Fabric shears and a paintbrush turned an Ikea blanket into a convincing poncho, and athletic insoles were added to many of the actors' boots, providing extra support during action scenes. Messam's textile artist, Jesse Trevino, gave the garments a believable patina of long wear.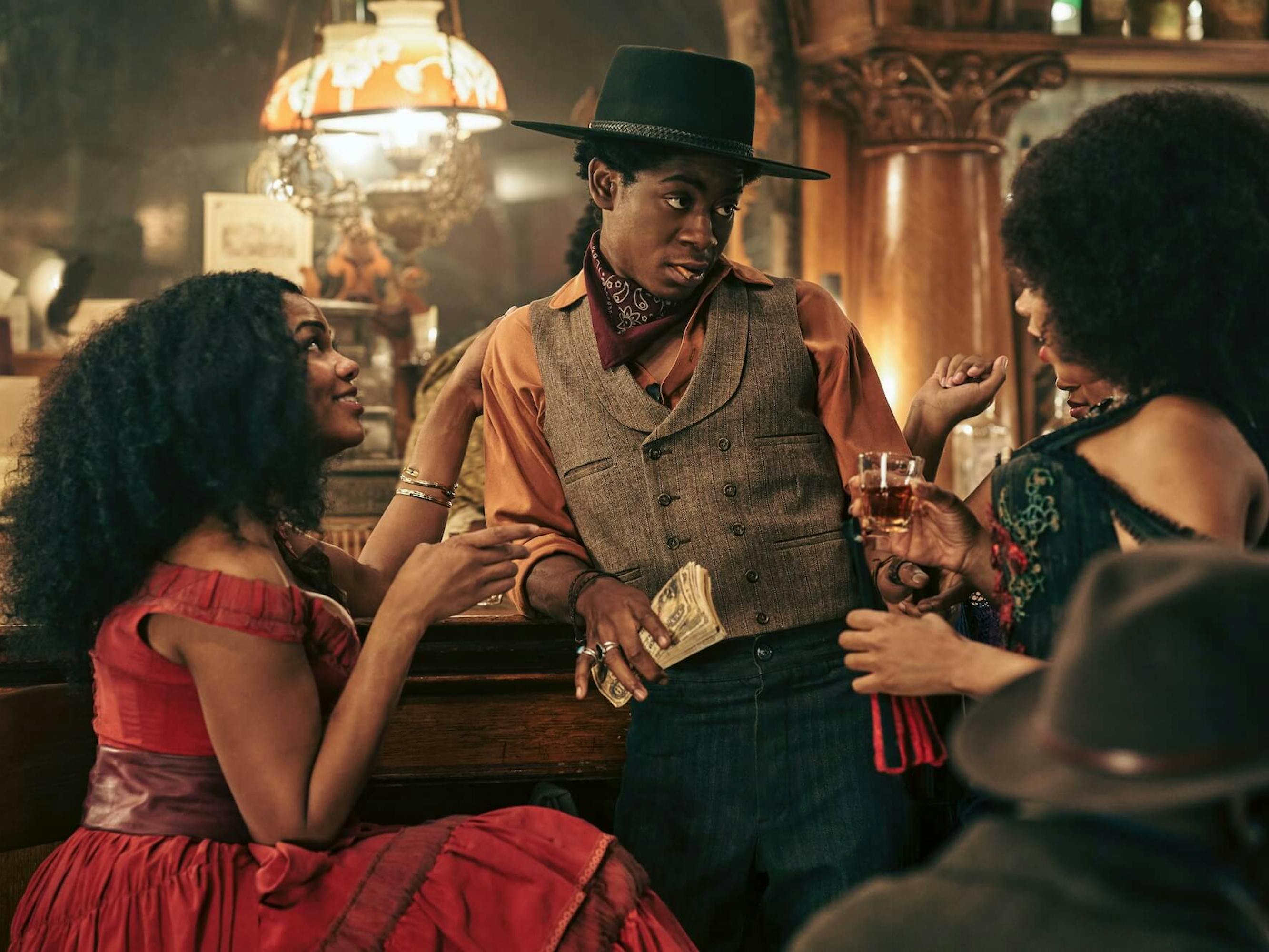 She situated the costuming somewhere between 1870 and 1890, combining elements of the Victorian era, the Old West, and Reconstruction. Messam and her team, at times split between Los Angeles, Toronto, and New Mexico, sourced wardrobe from costume rental houses, contemporary clothiers, the Santa Fe Opera House, and custom tailors, milliners, and bootmakers. "For our principal cast," Messam says, "most of their costume is head-to-toe custom." This includes some of her favorite pieces, like a cobalt blue collared shirt that Nat Love sports in an opening scene, and a stretch denim Victorian ladies' riding coat for Trudy Smith (Regina King).
I was just so overwhelmed. She looked so good. She looked so powerful, so strong.
The intimacy of custom fittings allowed for Messam to collaborate closely with the actors. She has described working with Majors as "the ultimate collaboration between a costume designer and their lead actor." Nat Love's wardrobe is deceptively simple, and Messam and Majors worked closely to ensure it served the character. "I have videos of him moving, sitting, trying different hats on, and we're literally figuring out the silhouette," said Messam.
Those initial conversations provided the foundation for the costuming approach for the rest of the film. "[Nat Love] was the first illustration, the first conceptual conversation with Jeymes. He is our number one. He's the anchor. And then it all evolved around him."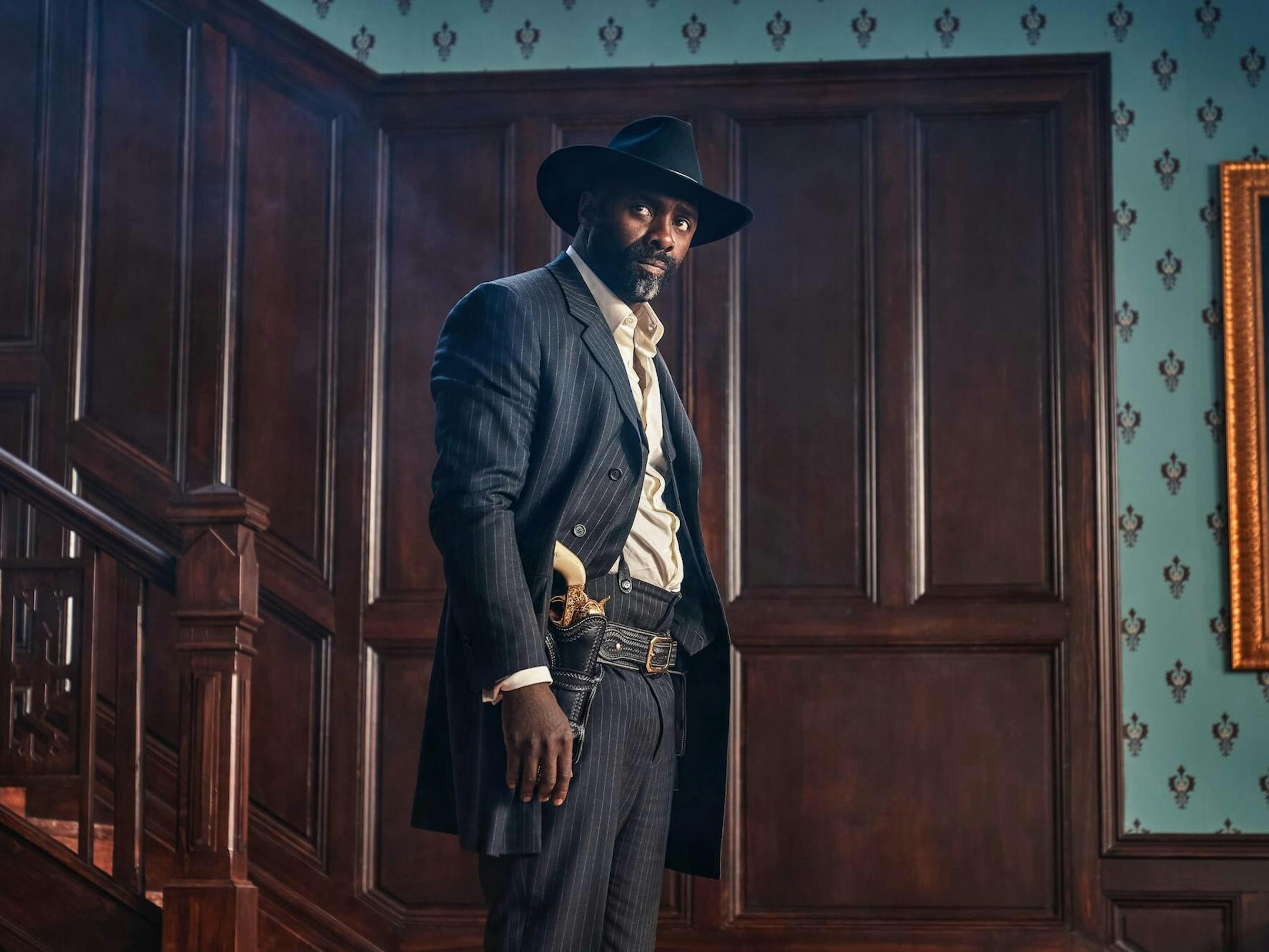 Idris Elba, who plays outlaw Rufus Buck, a character who was originally intended to have a uniformly suave appearance, had a change of mind about the direction of his costuming when he arrived on location. Elba and Messam rethought Rufus's wardrobe journey, a move that added even greater depth to the character. "That's what an actor like Idris brings to the table. 'How is this character feeling? Is he as together as he wants people to think?'"
Messam's deliberate touch is perhaps keenest in the minute details of the costuming. There's an authenticity to the way these characters present themselves, and not only from the ageing process applied to their coats. Nods to Native American, Mexican, and African influences run throughout the film, from Stagecoach Mary's (Zazie Beetz) turquoise pendant and indigo dyed mudcloth poncho, to Trudy Smith's delicate Fulani hoop earrings. These flourishes, often missing or cartoonish in traditional Westerns, felt important to Messam, who utilized artisans, jewelers, and silversmiths local to New Mexico to source some of these items. "Those people were African, some of them first, second generation." she said.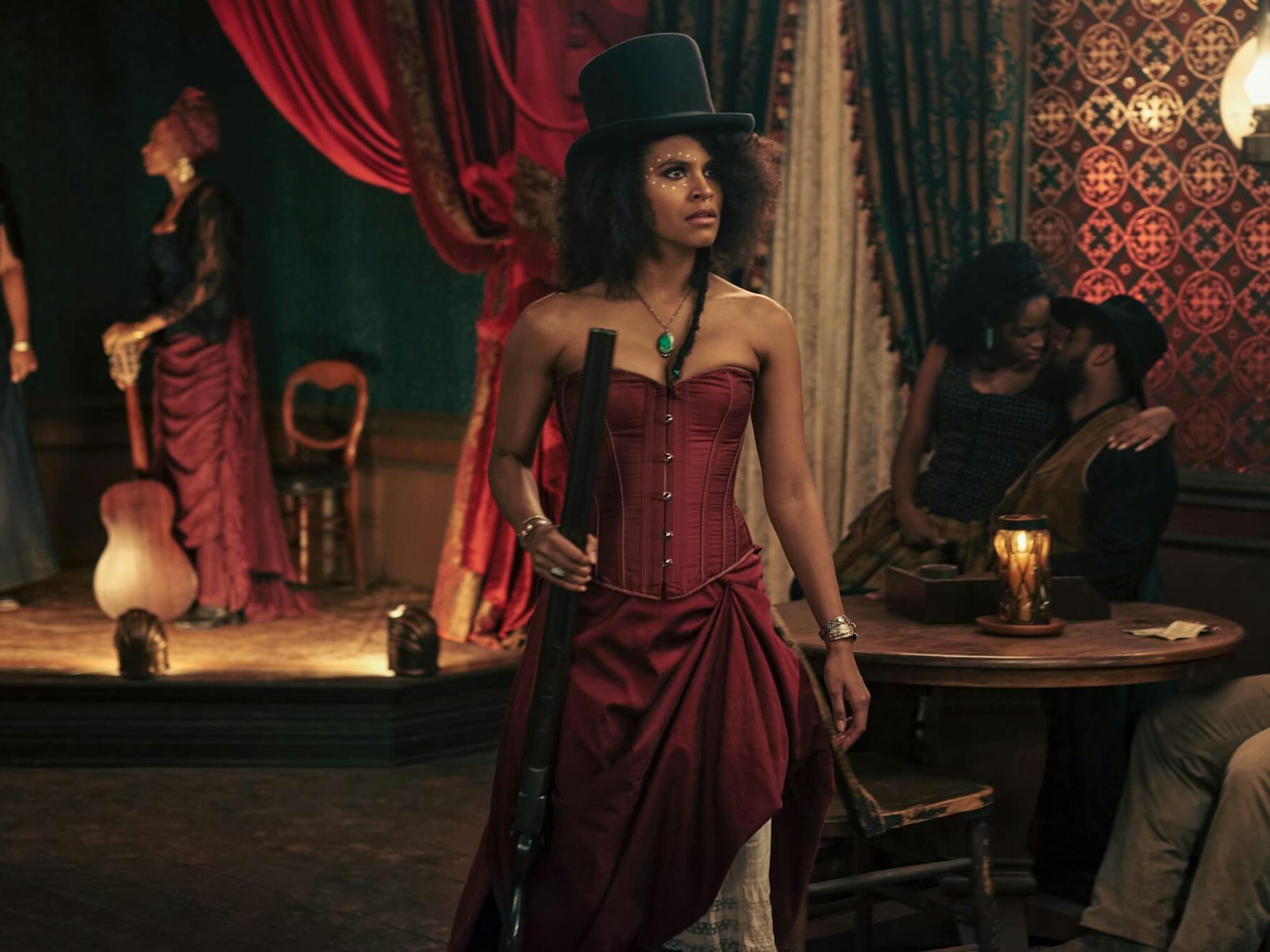 Including a range of visual influences was also a matter of adding realism to other elements of the film, like the fictional Douglas Town, where some of the action takes place. "Douglas Town was that crossroads town that everybody travels through. And I wanted those influences of the trade. I wanted to see the influences of the different immigrants that would have passed through that town," said Messam. "That was important to me, being an immigrant myself. I mean, I come from an island where you see the Chinese, the Syrian, the Indian, the African influences in our costume, in our history. So that just felt natural, but also something I'd not seen before in a Western."
Messam is excited to see how her modern spin on classic Western wear will be received, but if the on set response is any indication, she'll be soaking in the praise soon enough. When King donned a standout deep blue Victorian gown for the first camera test, the entire crew paused their work to applaud the sight of her. Messam, ever the seasoned professional, was careful not to undo all her hard work with a sudden wave of emotion. "I went up, and I was standing in front of her. And she just looked at me. I fell to my knees and hugged her around the waist. I was just so overwhelmed. She looked so good. She looked so powerful, so strong."