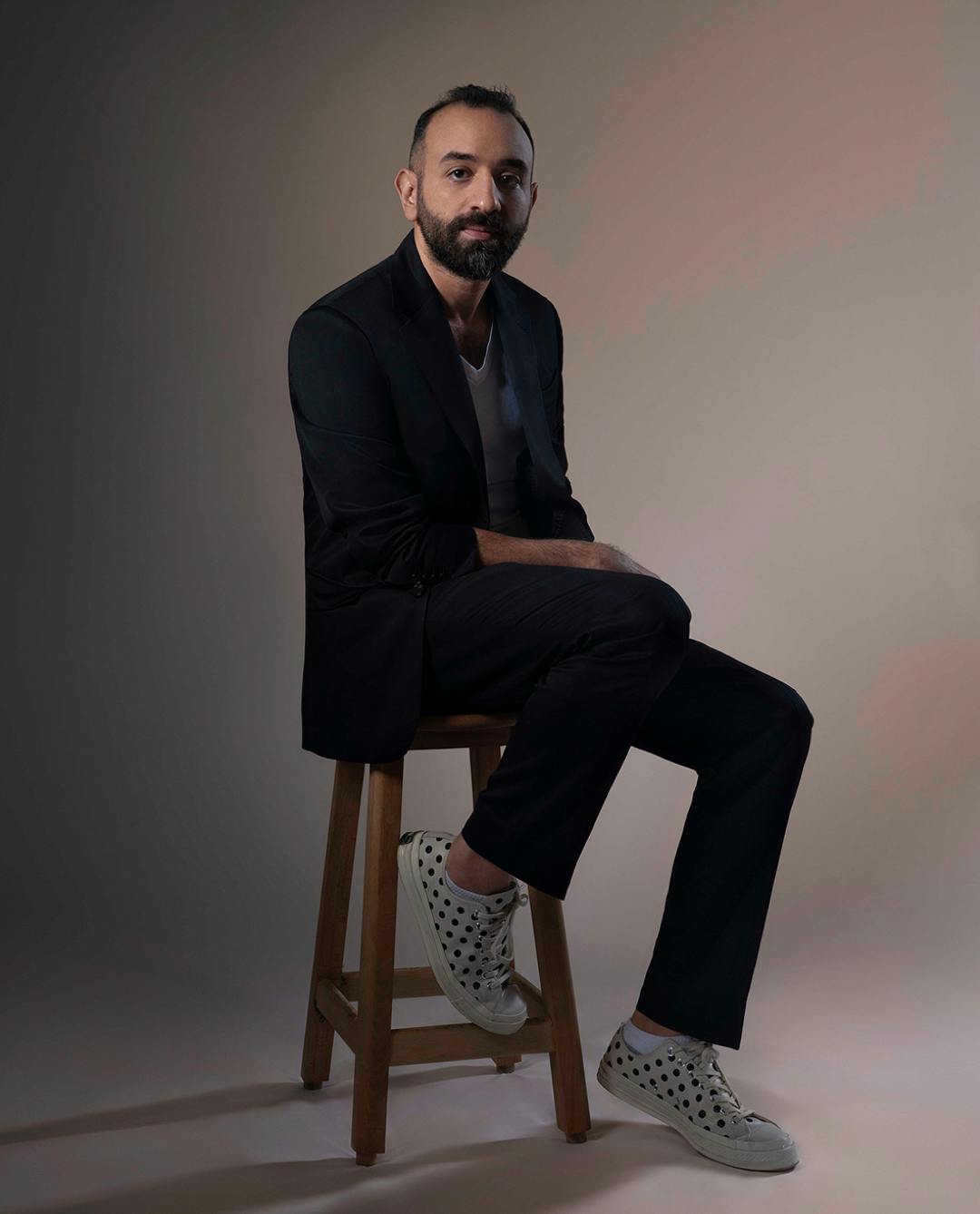 With Paranormal, Amr Salama brings Egyptian writer Ahmed Khaled Tawfik's beloved novels to a global audience.
The debut of Paranormal, a new series based on the best-selling novels by Dr. Ahmed Khaled Tawfik, marks a major milestone for the Egyptian entertainment industry. It is the first Netflix Arabic Original to be produced in that country, boasting a predominantly Egyptian cast and crew. Series creator Amr Salama has long counted himself among Tawfik's fans. "I started reading the books when I was around 10 years old," he says. "Tawfik was a rock star to me."
Tawfik, who died two years ago at the age of 55, was the Arab world's answer to Stephen King — the first contemporary horror and science fiction writer in the Middle East, and an ultra-prolific one to boot, with over 200 books to his name. Salama befriended the author via email 14 years ago, and shortly thereafter convinced his production partner, Mohamed Hefzy, to buy the rights to Paranormal.
Salama made a very public promise to Tawfik that he would get the series made. It started him on a long journey. His previous projects (Excuse My French, Asmaa, On a Day Like Today) may have won him international acclaim, but he had to write no fewer than three versions of Paranormal before successfully pitching it to Netflix as "the perfect mix between The X-Files, Stranger Things, and Supernatural — a super sexy series for adults and teenagers."
Tawfik's pocket novels, the first of which was published in 1993, are hugely popular with the younger set, who gathered in droves for the author's funeral. The series has sold over 15 million copies — and it's never been translated. Salama has now adapted six of the eighty-plus books into corresponding episodes, and Netflix has made Paranormal available in 190 countries, with subtitles in thirty-two languages and dubbing in nine, vastly expanding Tawfik's already massive audience. In each episode, the introverted, cynical, chain-smoking hematologist Dr. Refaat Ismail — our so-called hero without a superpower — is confronted with a supernatural mystery to solve or an evil spirit to banish.
Tawfik was a rock star to me.
"When the series was formally announced, people would literally stop me in the street and start harassing me to tell them who was going to play Refaat," Salama says. "I haven't been to a mall in the last year because if I went, people would not leave me alone."
He's not exaggerating. Fans mobbed message boards and social media to speculate and deliberate, especially when it was revealed that Ahmed Amin, a well-known Egyptian comedian, had been cast in the lead role. "That generated a lot of heat against me," Salama reveals. But his vision for Dr. Ismail was very specific, inspired in part by Jim Carrey's performance in Eternal Sunshine of the Spotless Mind."
Dr. Ismail's tone is very dark, but also very witty. It had to be a comedian playing a serious role, not an actor trying to be a comic," he explains of the choice. "Ahmed acted in the theater. He had a successful show. He was a writer himself, a big fan of the books, and a fan of the author, whom he knew personally. His performance is one of the things I am proudest of, and when the show is out, I think people will understand why I chose him."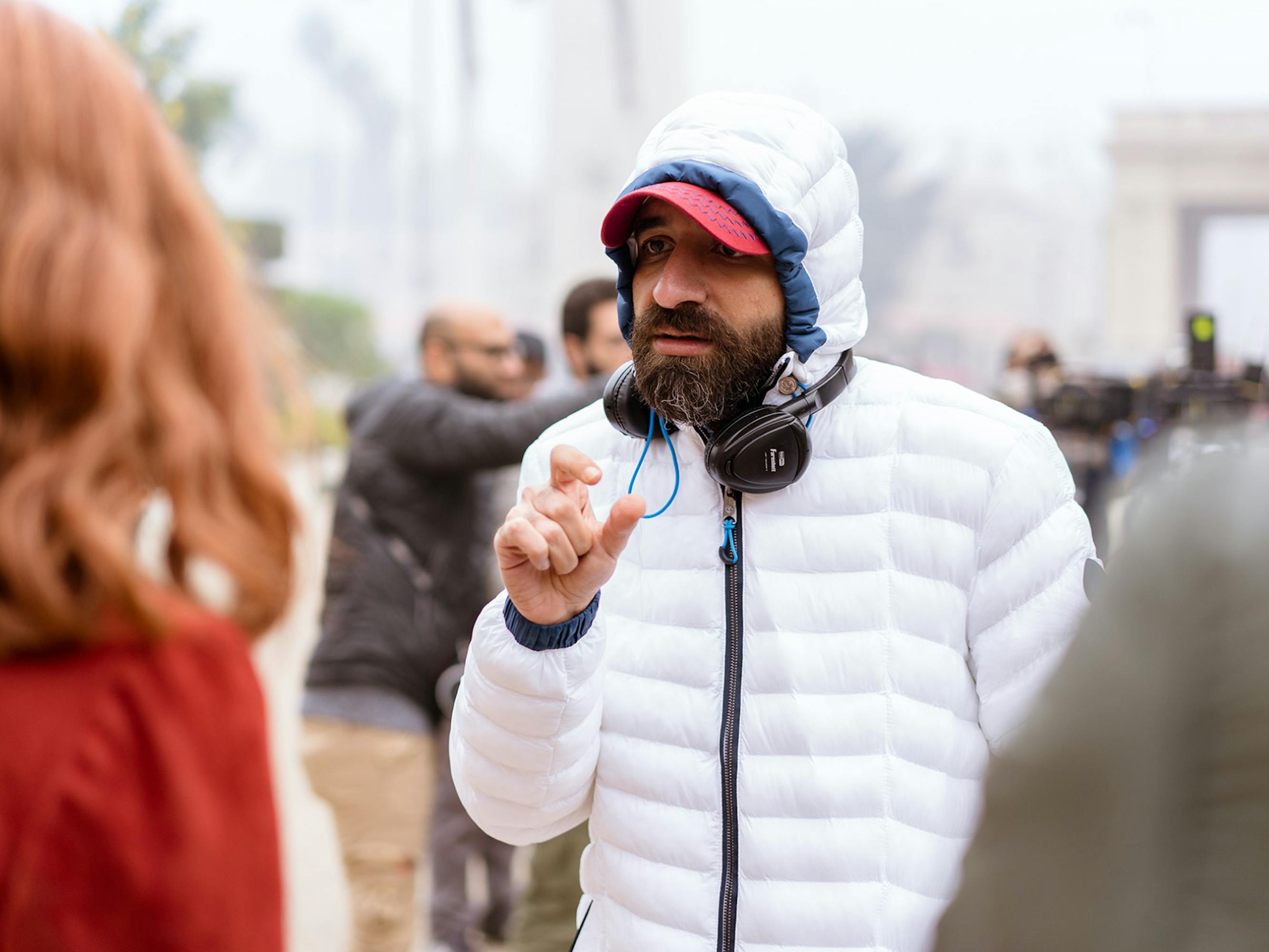 No one was more surprised than Amin himself when he first learned that he'd been selected for the role. The experience has been a game changer for him personally and professionally: "I entered a whole different territory in acting, and the best part of this experience was how much I learned," he explains. "I shadowed at a med school and closely observed hematologists. Doctors in the 1960s didn't write illegibly like they do today, so I took calligraphy classes to improve my handwriting. I also learned how to swim and dive."
Production was a learning experience for everyone involved. The story isn't chronological; it toggles from the 1910s to the 1940s to the 1960s. Salama stresses that unlike shooting in New York City, where entire neighborhoods are landmarked as historically significant and lend themselves to being transformed to an earlier time, in Cairo it is incredibly challenging to find even one block with the right exteriors: buildings without air conditioners, shops without advertising banners slung across their fronts.
"All Egyptians have this nostalgia for the 40s, 50s, and 60s, when we were more liberal, when we were more chic. It looked much nicer back then than it does now," says Salama of what many consider to be Cairo's cultural golden age. Production designer Ali Hossam Ali agrees: "Finding a readily available location that we liked was an impossible task. We either had to design it from scratch or remodel and redesign the location to fit the story." In some cases, four locations were required to film a single scene.
The fact that the horror genre is relatively new to this part of the world also provided an opportunity. Middle Eastern audiences are used to Western interpretations, but the associated visuals and trademark cold blue lighting "are completely irrelevant to Eastern culture," according to director of photography Ahmed Beshary. He stresses the importance of "understanding and respecting the light sources in our country, and using the light sources — their directions, timing, and density — to create that thriller look and feel."
I entered a whole different territory in acting.
"The presence of sunlight doesn't necessarily mean a bright day," he continues, "but you can shoot during a specific time of the day that will achieve the same exact effect while still being true to Egyptian culture. Timing really matters: It's how you achieve that broody, spooky, or suspenseful mood."
What Beshary went through in pursuit of that mood seemed, at times, beyond the call of duty. One episode required that the team film in a cave, which had so little room and such limited oxygen that the seven people allowed inside had to crouch down and rotate out every half hour. It was just one of many feats Beshary undertook to achieve a look that he believes will "take the thriller genre in Egypt to a whole new level."
One can't write about a series called Paranormal without asking about paranormal activity on set. True to the trope, Beshary is convinced that the Khadrawy House, where the cast and crew filmed for two weeks, was definitely haunted. Once, he woke up from a nap to find "a very angry boy and girl standing in front of me. Apparently, we were making too much noise while shooting and disturbed them." He woke up another time to find a rat sleeping next to him — but the creature was invisible to everyone but him. For what it's worth, it looked a lot like the rat that shows up in Episode 5.
Of course, that rat isn't just a rat, and Dr. Refaat Ismail must use his very human powers to sort out the supernatural situation. Episode by episode, he saves himself and a little bit of mankind, endearing a whole new generation of fans to this unlikely hero and his creator.